Blog Archives
I'm so excited to take part in Brenda Drake's Release Day Launch for TOUCHING FATE! Check out the book and excerpt below, and be sure to enter the amazing giveaway!
Aster Layne believes in physics, not psychics. A tarot card reading on the Ocean City Boardwalk should have been a ridiculous, just-for-fun thing. It wasn't. Aster discovers she has a very unscientific gift—with a simple touch of the cards, she can change a person's fate.
Reese Van Buren is cursed. Like the kind of old-school, centuries-old curse that runs in royal families. Every firstborn son is doomed to die on his eighteenth birthday—and Reese's is coming up fast. Bummer. He tries to distract himself from his inevitable death…only to find the one person who can save him.
Aster doesn't know that the hot Dutch guy she's just met needs her help–or that he's about to die.
But worst of all…she doesn't know that her new gift comes with dark, dark consequences that can harm everyone she loves.
Excerpt from TOUCHING FATE
The spell was broken when some partiers ran up the beach screaming and laughing. Aster turned in the direction of the noise and spotted Reese standing there. He waved. A moronic move, he reprimanded himself. Strolling up the beach James Bond-style would have been better, but instead, struggling in the sand, he headed for her. He decided if she moved toward him as well, it would be proof that she was attracted to him. Aster spun around and faced the ocean again.

Reese stopped. She was still angry with him. Just when he made up his mind to leave her alone, she started down the beach toward him.

"Hi," she said, staring up at him. The golden specks in her eyes were like stardust glinting in the low-lying sun.

"What are you doing here?"

"Leah invited Jan, and he brought me along."

"I see."

"Well, I didn't put up a struggle. I have to admit, I was hoping to see you." He held out the aster. "This is for you. A peace offering. One simple flower can mean so much more than a bunch, don't you agree?"

A shocked expression crossed her face, and Reese thought he had blown it. But then she gave him a sweet smile and took the flower from him. "Stolen ones are even better."

"Well, in all honesty, it was a spur-of-the-moment decision. A gentleman doesn't court a lady without bringing a gift."

"So you're courting me?" She tried unsuccessfully not to smile. It was rather fetching, her pink glossed lips twitching at the effort. "You don't even know anything about me."

"Well, that is the point of dating, isn't it? To get to know each other?"

"I'm not sure."

When the silence between them got uncomfortable, she lowered her head and picked at the stem of the flower.

"Not sure, huh?" This girl was a hard nut to crack. Reese got an idea. "How about we play a game?"

She looked back up at him. "What kind of game?"

"One where I tell you something about me, then you tell me something about yourself."

"Sure, why not?" She twirled around and padded across the beach, lifting up sand with her toes and flicking it into the air in front of her. "You go first."

"All right, then," he said, keeping pace with her. "My family lives in a castle just outside of Amsterdam, complete with towers and turrets. It's been in the family for generations. We only live in a few rooms. The rest of the place is open for tours. It helps pay for the upkeep and taxes."

"Really?" She knotted her fingers behind her back. "Does that mean you're royal?"

"No. But my father is a count." He hated talking about his lineage. "It's just a title," he said, as if it wasn't a big deal, which it wasn't, at least to him.

"That's pretty awesome," she said.

"Now you."
About the Author
Website | Facebook | Twitter | Goodreads | Pinterest | Instagram
Brenda Drake grew up the youngest of three children, an Air Force brat, and the continual new kid at school. Her fondest memories growing up are of her eccentric, Irish grandmother's animated tales, which gave her a strong love for storytelling.
So it was only fitting that she would choose to write stories with a bend toward the fantastical. When she's not writing or hanging out with her family, she haunts libraries, bookstores, and coffee shops, or reads someplace quiet and not at all exotic (much to her disappointment).
Giveaway
Giveaway is 3 winners of …
Grand Prize of the Kindle + Swag Pack (US/Canada)
$50 Amazon Gift Card (INT)
$50 Amazon Gift Card (US/Canada)
LINK TO RAFFLECOPTER GIVEAWAY!!!
RATING: 4.5 STARS/5
"Josh is Margot's boyfriend, but I guess you can say my whole family is a little in love with him." – To All The Boys I've Loved Before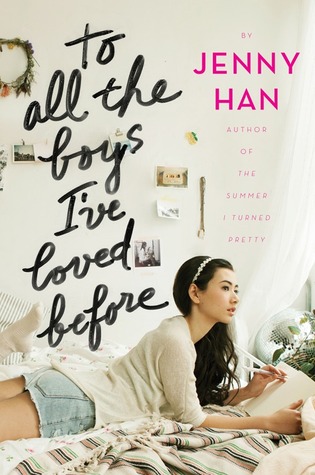 "To All the Boys I've Loved Before is the story of Lara Jean, who has never openly admitted her crushes, but instead wrote each boy a letter about how she felt, sealed it, and hid it in a box under her bed. But one day Lara Jean discovers that somehow her secret box of letters has been mailed, causing all her crushes from her past to confront her about the letters: her first kiss, the boy from summer camp, even her sister's ex-boyfriend, Josh. As she learns to deal with her past loves face to face, Lara Jean discovers that something good may come out of these letters after all."

– Taken from Goodreads
It has definitely been a little while since I read a book where I thoroughly loved the protagonist.
Maybe because I was on a bit of an Asian author reading kick (I must admit that I am secretly jumping for joy that more Asian authors are gaining fans!!!) I decided to finally read, To All The Boys I've Loved Before by Jenny Han. I was pleasantly surprised by how quickly I bonded with Lara Jean and related to all her mannerisms. I jumped for joy in finding a soul sister who shared an equal amount of petrified anxiety while driving (however many years it has been since I first started —who's counting?) as well as general social anxiety. Lara Jean's innocence, her bond with her family, geekiness, quirk, her total loyalty… I loved her more and more with each page.
Kitty (Katherine) is Lara Jean's little sister. If I ever had a little sister I would have wanted her to be exactly like Kitty. That girl had spunk and she said what she wanted to regardless of who it was. Her one liners kill me. Can I adopt her? I really want to adopt her. Please?
Margot is the rod that holds the family together. She keeps everyone in check and alive. The one who made sure her grades were good and that she would get into the school she wanted. Type A. Since she went off to Scotland for school I didn't get as attached with her.
I'm not going to get into the male characters or other supporting characters as I don't want to spoil them for anyone but I really liked how much detail Jenny Han put into her descriptions of her characters although some were less developed.
When I finished TATBILB, I jumped right into P.S I Still Love You even though it was already past 12am =)
Would I re-read this: Yes! Yes I most likely would.
Would I recommend this to a friend: Absolutely!
TSR, Tru
(DISCLAIMER: I did not receive this book from anyone — nor was I paid from anyone to read and review it. The above review is solely my own opinion, good or bad. Amazon links are a part of their affiliates program so any purchases made through those links will give me a small percentage of income.)
---
---
---
Welcome to Dominion City.
After the great Plague descended, the world population was decimated…
and their genetics damaged beyond repair.
The Lasters wait hopelessly for their genes to self-destruct.
The Splicers pay for expensive treatments that might prolong their life.
The plague-resistant True Borns are as mysterious as they are feared…
And then there's Lucy Fox and her identical twin sister, Margot.
After endless tests, no one wants to reveal what they are.
When Margot disappears, a desperate Lucy has no choice but to put her faith in the True Borns, led by the charismatic Nolan Storm and the beautiful but deadly Jared Price. As Lucy and the True Borns set out to rescue her sister, they stumble upon a vast conspiracy stretching from Dominion's street preachers to shady Russian tycoons. But why target the Fox sisters?
As they say in Dominion, it's in the blood.
About the Author
L.E. Sterling had an early obsession with sci-fi, fantasy and romance to which she remained faithful even through an M.A. in Creative Writing and a PhD in English Literature – where she completed a thesis on magical representation. She is the author of two previous novels, the cult hit Y/A novel The Originals (under pen name L.E. Vollick), dubbed "the Catcher in the Rye of a new generation" by one reviewer, and the urban fantasy Pluto's Gate. Originally hailing from Parry Sound, Ontario, L.E. spent most of her summers roaming across Canada in a van with her father, a hippie musician, her brothers and an occasional stray mutt – inspiring her writing career. She currently lives in Toronto, Ontario.