Category Archives:
Review
RATING: 4.5 STARS/5
"Josh is Margot's boyfriend, but I guess you can say my whole family is a little in love with him." – To All The Boys I've Loved Before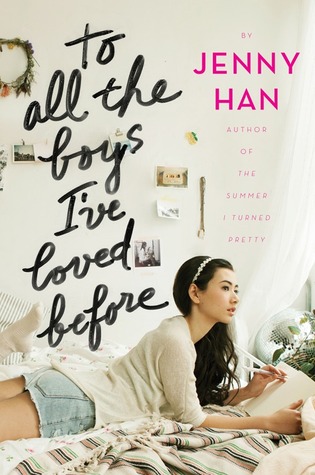 "To All the Boys I've Loved Before is the story of Lara Jean, who has never openly admitted her crushes, but instead wrote each boy a letter about how she felt, sealed it, and hid it in a box under her bed. But one day Lara Jean discovers that somehow her secret box of letters has been mailed, causing all her crushes from her past to confront her about the letters: her first kiss, the boy from summer camp, even her sister's ex-boyfriend, Josh. As she learns to deal with her past loves face to face, Lara Jean discovers that something good may come out of these letters after all."

– Taken from Goodreads
It has definitely been a little while since I read a book where I thoroughly loved the protagonist.
Maybe because I was on a bit of an Asian author reading kick (I must admit that I am secretly jumping for joy that more Asian authors are gaining fans!!!) I decided to finally read, To All The Boys I've Loved Before by Jenny Han. I was pleasantly surprised by how quickly I bonded with Lara Jean and related to all her mannerisms. I jumped for joy in finding a soul sister who shared an equal amount of petrified anxiety while driving (however many years it has been since I first started —who's counting?) as well as general social anxiety. Lara Jean's innocence, her bond with her family, geekiness, quirk, her total loyalty… I loved her more and more with each page.
Kitty (Katherine) is Lara Jean's little sister. If I ever had a little sister I would have wanted her to be exactly like Kitty. That girl had spunk and she said what she wanted to regardless of who it was. Her one liners kill me. Can I adopt her? I really want to adopt her. Please?
Margot is the rod that holds the family together. She keeps everyone in check and alive. The one who made sure her grades were good and that she would get into the school she wanted. Type A. Since she went off to Scotland for school I didn't get as attached with her.
I'm not going to get into the male characters or other supporting characters as I don't want to spoil them for anyone but I really liked how much detail Jenny Han put into her descriptions of her characters although some were less developed.
When I finished TATBILB, I jumped right into P.S I Still Love You even though it was already past 12am =)
Would I re-read this: Yes! Yes I most likely would.
Would I recommend this to a friend: Absolutely!
TSR, Tru
(DISCLAIMER: I did not receive this book from anyone — nor was I paid from anyone to read and review it. The above review is solely my own opinion, good or bad. Amazon links are a part of their affiliates program so any purchases made through those links will give me a small percentage of income.)
RATING: 2.5 STARS/5
" 'You sure about this?' Rachel asked again, blowing softly on the surface of her steaming cup of tea." – Crazy Rich Asians
Crazy Rich Asians is the outrageously funny debut novel about three super-rich, pedigreed Chinese families and the gossip, backbiting, and scheming that occurs when the heir to one of the most massive fortunes in Asia brings home his ABC (American-born Chinese) girlfriend to the wedding of the season.
When Rachel Chu agrees to spend the summer in Singapore with her boyfriend, Nicholas Young, she envisions a humble family home, long drives to explore the island, and quality time with the man she might one day marry. What she doesn't know is that Nick's family home happens to look like a palace, that she'll ride in more private planes than cars, and that with one of Asia's most eligible bachelors on her arm, Rachel might as well have a target on her back. Initiated into a world of dynastic splendor beyond imagination, Rachel meets Astrid, the It Girl of Singapore society; Eddie, whose family practically lives in the pages of the Hong Kong socialite magazines; and Eleanor, Nick's formidable mother, a woman who has very strong feelings about who her son should–and should not–marry. Uproarious, addictive, and filled with jaw-dropping opulence, Crazy Rich Asians is an insider's look at the Asian JetSet; a perfect depiction of the clash between old money and new money; between Overseas Chinese and Mainland Chinese; and a fabulous novel about what it means to be young, in love, and gloriously, crazily rich.

Taken from Goodreads
I probably would not have picked this book out for myself if I was browsing the bookstore isles looking for something to read. I didn't even know it existed to be perfectly honest. My boyfriend's brother said this was the book that he was reading on the cruise so I decided why not?
It is definitely an easy quick read for a vacation. Something that you can break away from and not get lost when you come back. It was a good paring to read while at the pool on a cruise to the Caribbean.
Being Asian, I could picture the old school Asian moms accurately —minus being filthy rich bajillionaires. The way they spoke and how they wanted their kids to marry into certain types of families. These are the norm for children in Asian households. I laughed a lot and I shuttered some as I imagined what it would be like to be the children in this family.
I wish that Singapore was described more. The beauty of it and not just the materialistic parts because I did enjoy when Kevin Kwan wrote about how Singaporeans argue over where the best food is located, the hotels, and appreciated the footnotes that explained things such as words and such.
All in all, thank goodness that I am not living in the type of environment that the characters are living in.
Would I re-read this: Most likely not.
Would I recommend this to a friend: Yes if you're going on a vacation/beach reading but otherwise no.
TSR, Tru
(DISCLAIMER: I did not receive this book from anyone —nor was I paid by anyone to read and review it. The above review is solely my own opinion, good or bad. Amazon links are a part of their affiliates program so any purchases made through those links will give me a small percentage of income.)
RATING: 3.5-4 STARS/5
"Walking to school over the snow-muffled cobbles, Karou had no sinister premonitions about the day." – Daughter of Smoke & Bone
"Around the world, black handprints are appearing on doorways, scorched there by winged strangers who have crept through a slit in the sky.

In a dark and dusty shop, a devil's supply of human teeth grown dangerously low.

And in the tangled lanes of Prague, a young art student is about to be caught up in a brutal otherworldly war.

Meet Karou. She fills her sketchbooks with monsters that may or may not be real, she's prone to disappearing on mysterious "errands", she speaks many languages – not all of them human – and her bright blue hair actually grows out of her head that color. Who is she? That is the question that haunts her, and she's about to find out.

When beautiful, haunted Akiva fixes fiery eyes on her in an alley in Marrakesh, the result is blood and starlight, secrets unveiled, and a star-crossed love whose roots drink deep of a violent past. But will Karou live to regret learning the truth about herself?"

– Taken from Goodreads review
Angels, devils, monsters, humans… otherworlds. I was pretty excited to get my hands on this book to say the least. Paranormal romance has always been my favorite genre.
Since Dreams of Gods & Monsters came out and the trilogy is now complete I thought I'd give it a try.
The descriptions of the drawings in Karou's sketchbook fascinated me as well as the scenery, Prague and all the other places Laini Taylor described, the teeth. There was enough detail so that I could picture everything but not so much that it made me skip pages trying to get to action. I loved the aspect of hope and wishes. The give and take relationship between getting something you think you wanted but for what price? It makes you think. It's realistic and not ohhhh everything comes so easy! I liked that Karou wasn't a delicate little thing. Her 'job' could get her hurt, and she did get hurt. She was tough and could handle it. These things I liked.
One thing that bothered me while reading was the extensive use of the suffix "-ness". Oh.my.gosh! It was getting on my nerves. Beautiful-ness. Great-ness. Whole-ness. Blue-ness…. but that's just me.
Another was that for the greater part of the beginning of the book it was in Karou's POV (which I liked) and then abruptly switched to Kaz's (her ex-boyfriend). From there it went back and forth between different characters. This wasn't a major deal but it caused it to be a choppy read for me.
All-in-all I did like the book. I'd lean closer to 3.5 stars for the majority of the book.
Would I re-read this: Probably. Most likely after I finish the whole trilogy to see what I missed.
Would I recommend this to a friend: Yes I would.
TSR, Tru
(DISCLAIMER: I did not receive this book from anyone —I borrowed it from my library— nor was I paid from anyone to read and review it. The above review is solely my own opinion, good or bad. Amazon links are a part of their affiliates program so any purchases made through those links will give me a small percentage of income.)