Category Archives:
Contemporary
RATING: 4.5 STARS/5
"Josh is Margot's boyfriend, but I guess you can say my whole family is a little in love with him." – To All The Boys I've Loved Before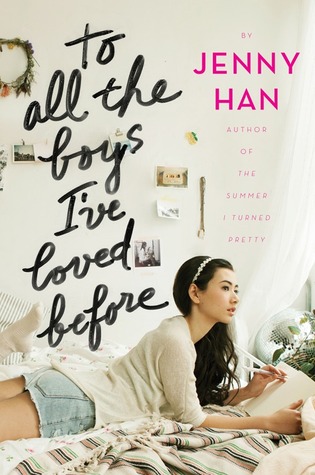 "To All the Boys I've Loved Before is the story of Lara Jean, who has never openly admitted her crushes, but instead wrote each boy a letter about how she felt, sealed it, and hid it in a box under her bed. But one day Lara Jean discovers that somehow her secret box of letters has been mailed, causing all her crushes from her past to confront her about the letters: her first kiss, the boy from summer camp, even her sister's ex-boyfriend, Josh. As she learns to deal with her past loves face to face, Lara Jean discovers that something good may come out of these letters after all."

– Taken from Goodreads
It has definitely been a little while since I read a book where I thoroughly loved the protagonist.
Maybe because I was on a bit of an Asian author reading kick (I must admit that I am secretly jumping for joy that more Asian authors are gaining fans!!!) I decided to finally read, To All The Boys I've Loved Before by Jenny Han. I was pleasantly surprised by how quickly I bonded with Lara Jean and related to all her mannerisms. I jumped for joy in finding a soul sister who shared an equal amount of petrified anxiety while driving (however many years it has been since I first started —who's counting?) as well as general social anxiety. Lara Jean's innocence, her bond with her family, geekiness, quirk, her total loyalty… I loved her more and more with each page.
Kitty (Katherine) is Lara Jean's little sister. If I ever had a little sister I would have wanted her to be exactly like Kitty. That girl had spunk and she said what she wanted to regardless of who it was. Her one liners kill me. Can I adopt her? I really want to adopt her. Please?
Margot is the rod that holds the family together. She keeps everyone in check and alive. The one who made sure her grades were good and that she would get into the school she wanted. Type A. Since she went off to Scotland for school I didn't get as attached with her.
I'm not going to get into the male characters or other supporting characters as I don't want to spoil them for anyone but I really liked how much detail Jenny Han put into her descriptions of her characters although some were less developed.
When I finished TATBILB, I jumped right into P.S I Still Love You even though it was already past 12am =)
Would I re-read this: Yes! Yes I most likely would.
Would I recommend this to a friend: Absolutely!
TSR, Tru
(DISCLAIMER: I did not receive this book from anyone — nor was I paid from anyone to read and review it. The above review is solely my own opinion, good or bad. Amazon links are a part of their affiliates program so any purchases made through those links will give me a small percentage of income.)